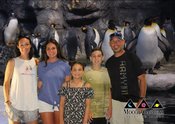 Elanna Hylander and Family
Welcome to the TES Counselor Page!
My name is Elanna Hylander and I am the counselor at Tatum Elementary School. This is my second year here at TES and I am so proud to be apart of this team! I received my Bachelor's Degree in Health Education at Texas A&M Commerce and my Master's in School Counseling from UT Tyler.
I have 3 crazy kids that are here at TISD with me and my husband Darren. "Coach Hylander" as all his students call him, is a coach at THS! We are so excited to have ALL of our family here in Tatum together (this is my very favorite thing!!). I love that Darren and I can see our kiddos learning in all their classes!
This community is truly special- I love seeing all of our Tatum students at the different games cheering on their favorite Eagle athletes and I LOVE how these same athletes come and support their "fans" on the other campuses!
Here at TES we value the support of our community. As counselor of Tatum Elementary it is my honor and pleasure to ensure the community ofTatum is included in their students education. This year we plan to offer multiple activities to support our little community of Tatum, TX.
Please check our calendar for any upcoming events throughout the year!