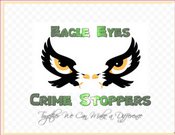 Tatum ISD has a campus-based version of Crime Stoppers and is operating underneath the Rusk County Crime Stoppers.

The mission of Tatum ISD's Crime Stoppers is to prevent and solve crime at school and at school events. Also, it gives students and parents a way to report any bullying that is suspected and do it anonymously. Faculty, staff, students, parents and community members can submit specific tips to an app,phone call or online to specific administrator within the district. Rewards will be paid to those who provide information about crimes that have already been committed or that are planned to be committed at school or at a school event.

Tips can be submitted safely and anonymously through the Tatum Crime Stoppers Program.

What is Campus Crime Stoppers?

Campus Crime Stoppers is a unique program to get students involved in keeping their schools safe. It's a joint effort among Tatum ISD, Rusk County Crime Stoppers, local law enforcement, and the community to keep the threat of violence, illegal drugs, weapons, and other dangerous activities off school campuses. The program also allows students to report bullying, suicidal thoughts and other incidents.

Do I have to give my name?

No! All tipsters are kept completely anonymous. Crime Stoppers will not ask for names and will give the tipster a code number. This number is for the tipster only and should not be given to anyone else. No one will know who sent the tip unless the tipster tells them. A protected or encrypted message from your email or text is sent to Crime Stoppers. The Crime Stoppers phone does not have caller I.D., so they cannot trace the call. If the tip leads to an arrest or recovery of weapons or illegal drugs, the tipster could be eligible for a reward, but the tipster must contact Crime Stoppers with the code number to inquire about it. Rewards are also given anonymously. Remember, Crime Stoppers does not have the information to contact you. By providing a tip, you can help keep classmates, friends, teachers and school safe and crime-free.

Anonymous Ways to Stop Crimes on Campus

If this is an urgent matter do not submit it here alone. Dial 911 if it is an emergency!

***Submit an anonymous Internet Tip through the forms below:

TPS Anonymous Tip Form

TES Anonymous Tip Form

TMS Anonymous Tip Form

THS Anonymous Tip Form

***Call 903-431-6900

***Contact: For more information about Tatum ISD Crime Stoppers Program , call Drenon Fite, Jr. at 903 947-0167.