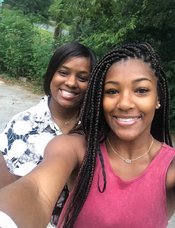 Mrs. Smith with Daughter, Essence
TES Welcomes Mrs. Smith
Hello! My name is Raishaunda Smith and I am the new Student Support Specialist/ Counselor at Tatum Elementary School. I look forward to working with the faculty and staff to reach as many needs as possible for our students. I am a 1993 Marshall High School graduate and 1997 Southern Arkansas University graduate and received a degree in Communications and a minor in Psychology. I attained my Master's in Education Administration in 2009 from Grand Canyon University.
I spent the first 15 years in education at Tatum Middle School teaching and coaching. I have had the opportunity to teach 8th grade Social Studies, 6th-8th grade Math Enrichment, and coach Junior Varsity volleyball and basketball as well as middle school track.
My husband Carlton Smith and I are approaching our 9th year of marriage. I have been blessed with two children. Malik Allen, is a 2015 Tatum graduate and 2018 Texas A&M graduate.
My daughter Essence Allen, is a senior at Tatum High School this year.
I look forward to assisting, working with and meeting many of you throughout this school year. Please don't hesitate to call with any questions or concerns that you may have. I am looking forward to a great year at Tatum Elementary School.